Dahr Jamail Speaks!
"Independent Media, Foreign Occupation, and the G.I. Resistance Movement"
– – – – –
featuring Singer/Songwriter
David Rovics
– – – – –
Monday, September 21, 7:30 p.m.
Memorial Chapel, Wesleyan University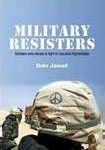 Award-winning independent journalist, Dahr Jamail, will speak about his experiences as an unembedded journalist living in occupied Iraq that culminated in his breakthrough biographical book, Beyond the Green Zone:  Dispatches from an Unembedded Journalist in Occupied Iraq.  This past July, Jamail released his second book, The Will to Resist:  Soldiers Who Refuse to Fight in Iraq and Afghanistan, about the rapidly growing GI resistance movement in the United States military.  The voice of Dahr Jamail brings an irreplaceable perspective to the understanding of U.S. wars of the past decade.
David Rovics has been called the "musical version of Democracy Now!" for his articulate and cutting-edge perspectives on war, poverty, imperialism, and protest.  He has shared the stage with such figures as Noam Chomsky, Ralph Nader, the Indigo Girls, Howard Zinn, and Susan Sarandon, and released 12 albums to date, including the recent self-release "Ten Thousand Miles Away" in 2009.  
Dahr Jamail's books will be sold at the event, courtesy of Broad Street Books.  David Rovics' CDs also will be available.
This event is FREE and open to the public, with a suggested donation of $5-$10.  Please give what you can to support those who have made this event possible.  The event is co-sponsored by WesPeace and WESU Radio 88.1FM.  Questions?  Contact coordinator Paul Blasenheim at pblasenheim@wesleyan.edu