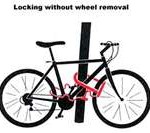 Because of the rise in value of the average bicycle in recent years and the increase of bikes on campus, there has been an increase in the number of bikes stolen on campus.  Most bikes that have been taken are either unsecured or secured with a cable lock, which is easily cut. 
If you bring a bicycle to campus you should:
 Purchase and use a high quality U lock to secure it.   When parked near other bikes, chances are a thief will take the bike with the least secure lock.
 If your U lock has a key at the end of the crossbar, position the lock with its keyway end facing down towards the ground to make it more difficult for someone to get at.
Personalize the bike to make it less attractive to a would-be thief and easy to identify if recovered.
Engrave an ID number on the bike (take advantage of Operation Identification).
Register your bike with Public Safety.
On Wednesday, September 2, there will be a Safety Fair held at the Usdan Center courtyard.  Public Safety will be registering bikes at that time and will also have U locks that can be purchased for $20.00.
Two helpful websites for further information are: www.nationalbikeregistry.com and www.BicycleSafe.com. 
Lt. Paul Verrillo,Wesleyan Public Safety