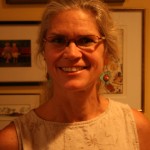 Louise Brown is the Dean for Academic Advancement and the Dean for the Class of 2013.  Hailing from Minnesota, Dean Brown graduated from Mount Holyoke College with a B.A. in political science before earning her Ph.D. at the University of Massachusetts-Amherst in the same discipline.  Prior to her work at Wesleyan, Dean Brown was at Connecticut College and Eugene Lang:  The New School for Liberal Studies (formerly part of the New School for Social Research).  Married to a great photographer, she has two kids, grows roses, and sings in a rock band (Busted Roses), among other things. 
So what does a class dean do?  A class dean monitors students' progress towards graduation (although students are responsible for knowing and meeting the graduation requirements!), provides general academic advice and support, helps students to understand the academic regulations and resolve academic issues, and refers students to the appropriate resources on campus.  She works with students from their entry as first-years to their graduation as seniors, and so serves as a "go-to" person for students' four years at Wesleyan.  Dean Brown also teaches in the government department when she has a chance.
Dean Brown holds regular drop-in hours and also is available by appointment.  She is excited to meet each member of the great Class of 2013, so do come to her office at 202 North College or call her at 685-2758 to set up a time to meet.