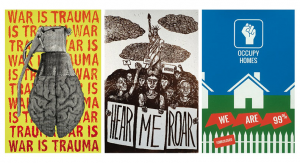 DAVISON ART CENTER
WESLEYAN UNIVERSITY
 presents
ARTISTS TAKE ACTION
PROTEST POSTERS TODAY
 April 5 — May 26, 2013
Opening Reception:  Thursday, April 4, 5:00-7:00 p.m.
Gallery Talk at 5:30 pm
by Lori Gruen, Professor of  Philosophy,
Environmental Studies, and Feminist, Gender & Sexuality Studies
The Davison Art Center, Wesleyan University, is delighted to present the exhibition, Artists Take Action: Protest Posters Today. In 2011, the Occupy movement filled town squares across the United States and around the world in protest of economic inequality. Artists and graphic designers created vivid posters to spread the word. This exhibition looks at the resurgence of protest posters today, whether advocating for climate control, economic justice, reproductive rights, gender rights, or fair and just treatment for war veterans. Included are more than eighty artists from around the United States and beyond.
The exhibition includes the print portfolio, This is an Emergency! A Reproductive Rights and Gender Justice Portfolio, 2012, as well as Occuprint, 2012, a portfolio of Occupy movement posters from around the world. The show also features two print portfolios organized by the Justseeds Artists' Cooperative. War is Trauma, 2012, was produced by Justseeds in collaboration with the advocacy group Iraq Veterans Against the War (IVAW). Justseeds also organized the portfolio, 2010, which addresses issues of climate change and environmental inequality. 
The exhibition is organized by the Davison Art Center in collaboration with Special Collections & Archives, Wesleyan University Library.