Please be aware that Wesleyan students who are U.S. citizens may vote in their home state or in Connecticut. Some state scholarships have residency requirements, so you are encouraged to check your home state's regulations before deciding where to vote.
VOTER REGISTRATION
In order to register in Middletown:   Connecticut Voter Registration Applications are available at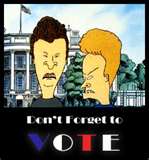 www.sots.ct.gov/sots/cwp/view.asp?a=3179&q=489908#VoterRegistrationForms and at the Wesleyan Registrar's Office on the first floor of North College. These forms need to be postmarked by Tuesday, October 23 or dropped off in-person by 8pm on Tuesday, October 30. As a courtesy, registration forms can be dropped off in the locked box at Wesleyan Station by Noon on Tuesday, October 23. Once registered to vote, you will received a confirmation letter advising you of your voting location.
In order to register in your home state:  The National Mail Voter Registration Form is available via www.eac.gov/assets/1/Page/National%20Mail%20Voter%20Registration%20Form%20-%20English.pdf.  States have varying voter registration deadline and policies, so please check your home state soon.
ABSENTEE BALLOT
After you have registered, you may visit the National Association of Secretaries of State via http://www.canivote.org/ or another reputable organization to vote by absentee ballot.
STAY INFORMED
If you are interested in signing up to receive text and email reminders regarding election deadlines, this service is available via https://turbovote.org/.
For additional information, check www.wesleyan.edu/registrar/general_information/voter_registration.html and review the attached information sheet.
Please let me know if you have any questions.
Sincerely,
Paul H. Turenne, Associate Registrar
North College  860-685-2352