"It was only after my family and I moved to India that we finally found a little bit of sakoon."
On a twelve-hour bus ride from New Delhi, India to Lahore, Pakistan, a man from Sialkot, Pakistan recounted to me his life story having left Pakistan to resettle in India. Amazed at what an American would be doing in the subcontinent in the middle of an intense July heat, he opened up to me after hearing my own funnily accented Hindi. His little statement on finally finding sakoon—a word encompassing feelings of relief, peace, and calm—was entirely unsolicited, yet stands as one of the most telling and poignant moments of my journey for my thesis.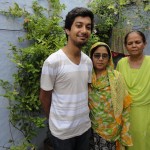 With the Davenport and Tololyan grants, I traveled to Dubai and South Asia this summer. My most vivid childhood memories are of my grandparents recounting the family history: a relatively peaceful and content existence in the city of Lucknow in India, the home beyond which they could not trace their ancestry, violently disturbed in 1947.  I realized the serious potential for this project when, knowing that I wanted to research Partition and the storied Indian Muslim experience, my professors told me to look no further than the uniqueness of my family story—transnational in scope, consisting of three divergent narratives of expatriate Pakistanis, current Pakistanis, and Muslims who remained in India—to use as a foundational basis to explore greater cultural, socioeconomic, and political questions that rile the region to this day.
I had been to Pakistan once before for a wedding about two years ago, but this was my first time traveling to India and Dubai. Dubai was important because this is where my uncle and grandmother from my mother's side reside. In addition to obviously being trustworthy and easygoing family members to begin the project with, I learned quickly how to most productively conduct the interviews from the kind of answers I got and what directions the conversation would take. Dubai beyond that was of little interest—it felt entirely lacking in its own culture and history, instead absorbing my least favorite of Western values, aspiring to make all of its malls and hotels and cars the biggest and baddest.
Being able to go to India at this particular moment in time was an incredible opportunity. From the moment I set foot in Bangalore, I could tell the country is at a major crossroads in terms of the rapid development and global significance soon to come its way. Major subway systems are built within a matter of years; multinationals are establishing offices left and right to absorb a massively young and educated workforce; perhaps most important is that, even with serious problems of corruption and inequality, almost everyone's face glows when they're asked what they think of India's future. They proudly assert that a new India has arrived to finally inherit the glorious legacy of ancient Indian civilizations. Even beyond seeing all of this though, however important it was for my research, some of the most significant moments of my trip were when a family member would see me for the first time at a train station and tear up, telling me how much I looked like my grandparents who they hadn't seen in so many decades since the subcontinent split.
 My experience on the other side of the border was entirely different; there is little of the same national pride and hope for a shared prosperity, they say, for any number of reasons. Afghanistan, America, India, or the hotheaded tribals—there are too many hurdles to overcome and all are to blame. The question of Pakistan has come into increased focus among academics, policymakers, and the general public in light of the war in neighboring Afghanistan, the persistence of Islamic fundamentalist and terrorist networks, and a government unable to deal with any such serious dilemmasThe aim is to find a microcosm of Indian and Pakistani narratives in the memories of each branch of my family, to see how troubled beginnings came to such divergent conclusions and what history offers toward a productive future in the region. I wasn't there for very long, but I can say with little hesitation that the formative experience of exploring my family history and homeland was not only instructive for my thesis, but perhaps the first step towards a future career in academia.