In the weeks leading up to my trip to India, I often tried to imagine what my experiences there would be like. Mostly, I pictured myself on a street corner amid a sea of traffic, trucks and bicycles and people a blur around me. Anonymous, alone, and adrift in an impossibly foreign land. With diarrhea trickling down my leg.
A large part of this uncertainty was due to the fact that I wasn't actually studying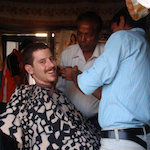 abroad: I took a leave of absence from my beloved Wes and organized the trip on my own. My plan, which only started to come together a few days before my departure in early February, was to travel throughout the northern half of the country WWOOFing. Fortunately for me, I was primarily interested in using WWOOF (Worldwide Opportunities on Organic Farms) as a means of meeting locals and fellow travelers, rather than mastering sustainable agriculture—among the many tasks the farmers set me to work on were weeding, watering, digging holes, filling in holes, hauling rubble, sanding plaster, and painting a swimming pool in the middle of the desert.
My hosts came from many walks of life: a poor family who made a living growing wheat and rice, a successful entrepreneur who was in the process of building a luxury hotel on his property, an elderly couple with a vegetable garden and a modest collection of fruit trees, a businessman who spent his life traveling in the western world and decided to celebrate his retirement by planting an orchard. I began in the arid state of Rajasthan on a farm languishing in the desert heat, but my later travels took me into the foothills of the Himalayas where mountain snowmelt feeds lush forests. Between my stays on five different farms, I visited many cities and took in sights such as the Taj Mahal, the Golden Temple in Amritsar, and Mumbai's skyscrapers and sprawling slums. 
I felt genuinely welcomed into many of my hosts' homes and communities. I attended two wedding parties, joined in a town's celebration of the Holi festival, and ate lunch in a remote village where I had the dubious honor of being the first white person most of the villagers had ever laid eyes on. I helped with cooking, cared for children, and talked to people from many walks of life, from rural farmers to middle-class suburbanites to a member of the Indian Parliament. Miraculously, I emerged from India in early May having never suffered the digestive ailments I anticipated, but my trip defied my expectations in other ways I never could have expected.