Just a reminder that voting is open for WSA President, Vice President and for Senior Class Officers (2013).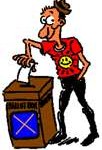 EXERCISE YOUR RIGHT TO VOTE! wsa.wesleyan.edu/voting    (Seniors, you can vote, too.)  We are halfway through the election; here are the voting stats so far –
Frosh : 265    Sophs : 203     Juniors : 252
If you haven't voted, vote NOW.  Also, if you are interested in being a part of the WSA next year, run for class rep. You can get a petition in the WSA office, or print one here.
Best, The Elections Committee–Meherazade Sumariwalla '12 (Chair), Syed Ali '13 and Maeve Russell '14