IT'S HERE AGAIN.
THROW BALLS & WIN MONEY.  THROW BALLS AT HIGH SPEED & WIN MONEY.
WIN $$ & RAISE $$ FOR SHOFCO.
3rd ANNUAL DODGEBALL TOURNAMENT!!
 DO YOU HAVE WHAT IT TAKES?
Sunday, April 15  —  2 p.m.
Entry deadline:  Wednesday, April 11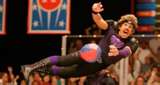 GET 5 FRIENDS & $30,
A COOL OUTFIT & A hot ATTITUDE
Prize for most creative team attire….
Entry form on to the right on the class blog.