Dear Students,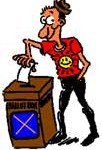 http://wsa.wesleyan.edu/voting/). Your feedback is very important for all of us students here at Wesleyan to make our university what we all want it to be. As always, your thoughts, complaints, comments, concerns, etc. are welcome at wsa@wesleyan.edu or talk to any of your representatives.
The Winter Elections and Winter Survey are now open at (
Cheers and best of luck going into our last days of Fall semester!
Arya M. Alizadeh '13, Chair, Elections Committee, Coordinator, WSA