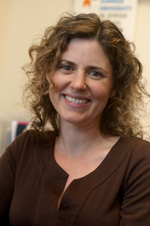 You're cordially invited to Professor Rachel Rubinstein's lecture this Wednesday evening in PAC 002 at 8pm.  As a part of the Jewish and Israel Studies Program lecture series this semester, Professor Rubinstein will speak about her recently published book, Members of the Tribe: Native America in the Jewish Imagination. Her lecture is entitled "Tribal Longings, Enlightenment Selves: Indians, Jews, and the Making of American Identity." Rubinstein is Associate Professor of American Literature and Jewish Studies at Hampshire College.
In her book, Rubinstein examines interventions by Jewish writers into an ongoing American fascination with the "imaginary Indian." Rubinstein argues that Jewish writers represented and identified with the figure of the American Indian differently than their white counterparts, as they found in this figure a mirror for their own anxieties about tribal and national belonging. Through a series of literary readings, Rubinstein traces a shifting and unstable dynamic of imagined Indian-Jewish kinship that can easily give way to opposition and, especially in the contemporary moment, competition.
Please join us on Wednesday evening.