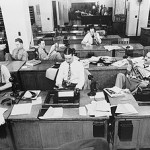 48 Hour Magazine Project 
We are going to write, edit, design, and publish a magazine over the course of forty-eight hours.
We're seeking writers, photographers, artists, filmmakers, designers (both print and web), copy editors, and anyone else who thinks this is even remotely a good idea. Your efforts will define this project because we can only make it happen with a great team of contributors. You can spend anywhere from one to forty-eight hours with us, assisting with any or every step of the process. Experience is not necessary.
Here's how it will go:
At noon on Friday, November 11th, we will announce the magazine's theme, a loose topic that you can use as a jumping-off point for your work. We'll also have a selection of prompts, prods, and suggestions if you're looking for a little extra direction. Over the next forty-eight hours, you will join us in selecting and editing content, establishing the magazine's graphical and editorial identity, and designing the print and web editions. You'll even get to help choose the name.
Why bother? It's going to be forty-eight hours of frenzied fun and free food. When we're done we will have an awesome magazine to distribute throughout campus (for free!), and we will weep joyous tears of elated exhaustion and/or exhausted elation.
If you want to contribute, send an email to 48hourmag@gmail.com. At noon on Friday, will will announce the theme and prompts  via facebook and email (and on Wesleying).
Follow us on Facebook.  Also, tell your friends.
Many thanks to the Shapiro Creative Writing Center for making this event possible.