Dear Students,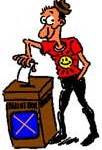 Please note that the Middletown Registrar of Voters has revised their policy regarding Wesleyan student voter registration for the coming elections. This will affect how students will go about voting on election day. 
**Students will now have to vote at one of four different polling locations depending on where they officially reside on campus according to ResLife records.**
Students should check their WesBox for a letter from the Registrar of Voters to get their new polling location information. If you do not get a letter, call the registrar of voters at 860-344-3518 to find out your polling location. Students do not need to go confirm their official residence at the Registrar of Voters. They may go to their appropriate voting location on Election Day with their WesID and verbally confirm their residence. 
Students may still register to vote in person at the Registrar of Voters until Monday, November 7th at noon. (located at 245 DeKoven Drive, open Monday through Friday from 8:30am to 4:30pm). 
Rides will be provided to the various polling locations for students on election day.
If you have any inquiries, please contact wsa@wesleyan.edu or wesleyanvotes@gmail.com Thanks and happy voting!  The WSA