This summer I was employed by an Italian company called ACLE where I essentially taught English to Italian children in English immersion camps, staying with host families the whole time.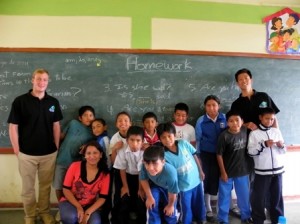 The first week of orientation training was a pleasantly overwhelming array of English speakers from around the world–Ireland, Canada, UK, Australia, and South Africa (over 100 of them). By day we trained to be counselors and by night we sampled the Italian lifestyle, sipping cappuccinos by day and wine by night. It was all too easy to fall in love with the Italian way of life:  old woman eating gelatos, old men melting away on the beach, and a vibrant culture of both the old and new generations.
            The scariest part of it all was the first day when I had twelve little campers staring at me, trying to anticipate my next move as I stood at the chalkboard with a blank stare. "Name game," I reluctantly cried out, and then proceeded to demonstrate proper English introductions. The work was frustrating; in fact I was the sole counselor who didn't scramble out of my classroom to cry in the bathroom (although I did lose my voice a few times (and possibly my sanity).
            I travelled every week from San Remo to Deruta (near Perugia and Assisi), to Turate (near Lake Como and Milan), to Piverone (a small town in the Piedmont [wine country] region). After three weeks, I was exhausted and could barely sit in a chair for fear of it turning into another round of musical chairs. The camp songs "I'm alive awake alert enthusiastic," and "Monday is a working day," were seemingly permanent features of my conscious now. By the third week, however, I had assumed a leadership position and was planning and implementing the afternoon activities for the entire camp.
            By the end of the summer, I realized how invaluable my experiences were. Travelling is a beautiful way to gain perspective and confidence. For eight weeks, I travelled to Peru, Italy, and Portugal ultimately to return home with a new sense of myself and the world which I live in.