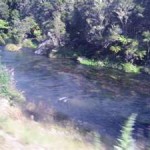 Since 1992, when the UN designated March 22 as World Water Day, there have been celebrations around the world every year as a means of focusing attention on the importance of freshwater and advocating for the sustainable management of freshwater resources. This year, Wesleyan will be a part of this worldwide movement, so please join us.
THURSDAY, MARCH 31 at 6 p.m., EARTH HOUSE (corner of High and Lawn)
BE INFORMED by E&ES Professor Peter Patton about the unsustainability of irrigation systems for agriculture and Government Professor Michael Nelson about international water politics.
Learn how to TAKE ACTION from student group, Brighter Dawns, which works on water purification in Bangladesh, and from Carina Kurban `14, whose organization sells stainless steel bottles to raise money for clean water in developing countries.
VEGETARIAN MEAL WILL BE SERVED FOR THOSE WHO ARRIVE AT SIX O'CLOCK. 
Co-sponsored by Earth House and Outhouse