OMAR OFFENDUM CONCERT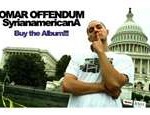 Wesleyan's Pakistani Flood Relief Initiative is bringing back Omar Offendum, a Syrian-American MC/Producer,
to debut his new album Syriana-americanA at Eclectic this Friday.
 Bones Complex will start the show.  
WHEN: 10.29.10     WHERE: Eclectic    TIME: 10:30 pm – 1:00 am
TICKETS: $3 sold NOW in Usdan and $4 at the door
Buy tickets while they last, because you really don't want to miss this!
All proceeds go to Oxfam, Red Cross and Islamic Relief for Pakistani Flood Victims.