FALLAPALOOZA!
  Join the Class of 2013 in celebrating a new school year with
a special hot autumn meal
& performances by your FAV bands
 Clover Street Band, Thelonius Funk, Linus,
Bones Complex & The Japanese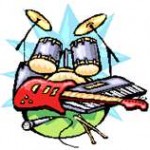 The CFA Green  September 25   5-8 p.m.
FREE WESLEYAN 2013 t-shirts for sophomores only–first-come, first-served
ALL are welcome ! 
Bring your Wes ID 
Rainsite: Beckham Hall, music/t-shirts only 8-11 p.m.