Don't miss Wesleyan's 16th Annual Study Abroad Fair!
                                                                                         MONDAY, SEPTEMBER 13
BECKHAM HALL      11:00 a.m. – 2:00 p.m.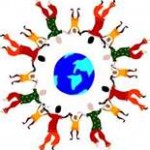 Whether you are a first-year student, a sophomore deciding on a major, or a junior planning to study abroad next semester, this is a wonderful opportunity to meet representatives from the over 140 programs available, receive literature about the programs and ask questions.
Find out all your options for study abroad!
Sponsored by the Office of International Studies