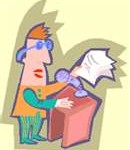 It's not too late…to run for the WSA!
There's still time to print a petition, submit your 150 word statement and come to the candidate's meeting today (Friday) at 5:00 pm in PAC 002.
Access the petition here: http://wsa.wesleyan.edu/general-assembly/election-petition/ or just pick one up from the WSA Office in Usdan!
There are 8 seats in the at-large category and 9 seats for freshman representatives.
The At-Large election is open to sophomores, juniors and seniors whereas the Freshman election is restricted to the Class of 2014 ONLY.
Don't wait – get involved!