David Henry Hwang
"WRITE WHAT YOU (DON'T) KNOW"
 Wednesday, March 3 at 7 p.m.
Memorial Chapel
Free Admission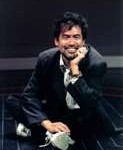 On behalf of the Theater Department and the CFA, I invite you to David Henry Hwang's talk, which is co-sponsored by the Albritton Center for the Study of Public Life and the Baldwin Fellows Fund, The Little Fund, Wesleyan Writing Program, English Department and the Feminist, Gender and Sexuality Studies Program.
Tony-award winning playwright David Henry Hwang, hailed as "the first U.S. playwright to become an international phenomenon in a generation" by Time Magazine, discusses his extraordinary and groundbreaking body of work. Hwang is best known as the author of M. Butterfly, a controversial twist on Puccini's opera Madama Butterfly, which ran for two years on Broadway, won the 1988 Tony and Drama Desk Awards, and was a 1989 Pulitzer Prize finalist.
His Broadway musicals include the book for the revival of Rodgers & Hammerstein's Flower Drum Song, which earned him a third Tony nomination in 2003 for Best Book of a Musical, and Disney's international musical hit Aida, winner of four Tony Awards in 2000. His recent Yellow Face was a Pulitzer Finalist.  As an opera librettist, he has written numerous works, including three with renowned composer Philip Glass.
Throughout his extensive career, Hwang has explored the complexities of forging Eastern and Western cultures in a contemporary America. His work challenges political and social discourses that reduce complex human identities into stereotypes, and encourages the exploration, in his own words, "not so much of blurring distinctions or subsuming cultures as of different cultures coming to live together side by side."
Pamela Tatge,  Director, Center for the Arts