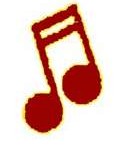 With sixteen entries from across the classes, there was stiff competition in the Second Annual Musical Madness at Crowell Concert Hall on Thursday, February 18.  It was an amazing evening and showcased the awesome musical talent of Wesleyan students.  Everyone was well-received to much applause and lots of woo-woos.  Many thanks to all who performed, and we hope you will participate again next year!
 Best in Show went to senior Lu Yang whose performance of Mauro Guiliani's Gran Sonata Eroica classical guitar piece blew everyone away.   His mastery of technique and nuance absorbed the audience from his first to last note.
 It was difficult for the judges to make these final choices, but they had to do it.  Best in Class went to:
Class of 2013:  Thelonius Funk:  Julian Applebaum, Adam Brudnick Adam Jaskol, Audrey Kiely, Greg Shaheen and Zach Sulsky, for their original, "Other Side of the Looking Glass," a jazzy and sultry invitation to that side, with lead vocalist Audrey Kiely out in front.
Class of 2012:  Men with Bad Manners: Benjamin Kaufman, Jeremy Keim-Shenk, Immanuel Lokwei, Howe Pearson, Abaye Seinmetz-Silber, for their original "Natty on the Road."   Their rub-a-dub reggae rhythms got the crowd bobbing and waving to the beat. 
 Class of 2011:  Henry Kiely, for his original, "Ragged Army."  Kiely merged his sweet acoustic guitar with yearning lyrics for a performance that highlighted his musicality, and  vocal and technical abilities.
 Class of 2010:  The Senior Moments:  Jesse Bordwin, Justin Bours, Sam Friedman, Leah Lucid, Ariela Rotenberg, Hansel Tan and Elizabeth Trammell, for their joyous performance of "Hear My Song" (Jason Robert Brown).  The tight harmonies and excellent piano were the icing to the fun they were having together on stage.   
 Walking away with one of two Judges' Choice was DJ Swanrape aka Harry Ezratty '13 for his original mixing of a wild "Mingus and Zappa" interpretation. The other Judges' Choice went to Max Baum '11 for the nuanced rendition of C,S,N&Y's "Teach Your Children," which brought home why this classic has persevered.
Many thanks to the judges, Prof. Jay Hoggard, Prof. Mary-Jane Rubenstein, and Max Gardner '10, who had a lot of tough choices to make, and many thanks again to all who entered Musical Madness.  You rocked!
We hope to get videos up on the class blogs later this week.