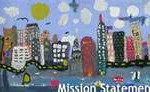 URBAN EDUCATION SEMESTER (UES) combines supervised teaching in  NYC progressive public schools with coursework at the Bank Street College of Education.  You will receive WES CREDIT for this program through the Office of International Studies. 
This is a terrific program about urban issues and policy.
INFO SESSION: Thursday, Feb. 25, 6 – 7 p.m., Allbritton 103.       
Application Deadline: March 29
Interested in UES but can't come to info session?   Contact Vicky Zwelling, Career Resource Center, 860-685-2180 vzwelling@wesleyan.edu