Want to win some money?  Want to help with Haiti relief? 
Want to kick some butt with your friends?
 YOU CAN DO ALL THREE!
 PLAY IN THE "HAVE A HEART FOR HAITI" DODGEBALL TOURNAMENT
Sunday, February 14th at 2 pm
Bacon Field House
Entry deadline:  February 10th
Valentine Prize for Most Creative Team Attire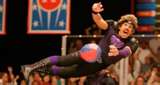 BRING 5 OF YOUR FRIENDS, $20, SOME COOL OUTFITS, AND A COMPETITIVE ATTITUDE
Proceeds split 1/3 for the winning team & 2/3 for Partners in Health
Sign up to play and find the details online!
http://www.wesleyan.edu/deans/2013council/dodgeball.html