Over this summer, I interned at Air America. Yes, that is an airline, and yes, that's also a movie starring Mel Gibson, but the Air America I worked at was a liberal talk radio station, with a line of hosts meant to counter the likes of Glenn Beck and Rush Limbaugh. My internship was unpaid, but it wasn't a hey-intern-go-get-some-coffee type of job. I actually got to contribute to the station's blog by summarizing and commenting on current events.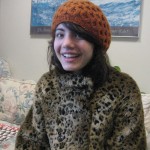 Naturally, it kept me really up to date on the news, since I had to read the paper every morning and constantly monitor news sites during the day. It was also pretty great to work in New York City all summer, since another component of my job was going to Union Square and interviewing people about their thoughts on the news for a series of videos Air America put on YouTube. I also got an opportunity to meet Lewis Black, who was interviewed on one of the shows, Montel Williams, who hosts his own show daily, and Wesleyan sophomore Adam Schlesinger, who just so happened to be interning with me.
I've learned that blogging isn't just some snarky medium, and, over all, my internship inspired a lot of what I do here at Wesleyan. I'd like to continue with radio on WESU, to keep blogging on the beautiful Method Magazine website (www.methodmagazine.com), and, hopefully, to get back into the habit of reading the newspaper. Hopefully.