Not Happy with Mid-term Grades…
Many of you will be getting your mid-term exam, papers, and projects back soon, if you haven't already.  While I hope you will be pleased with how you did, if you are not, it can be quite an eye-opener and rattle your confidence a bit.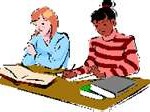 Suggestions for next steps:   Review the exam with your professor and/or your TA and talk with them about study strategies specific to the discipline; meet with your faculty advisor and with me for study suggestions and time management tips; talk to a peer advisor and strengthen areas that you've identified as trouble-spots by going to an academic skills workshop (keep your eye out for exam prep and exam taking workshops for the next round of "mid-terms;" check out the SARN resources through the class blog, below; seek out some support at OBH or the chaplains; and come see me with any other questions or concerns. 
Always remember that you never would have been admitted if you didn't have the chops!  We all run into times that are difficult or seem overwhelming.  It's how you deal with them that makes a difference.