Tuesday, November 3 in the Chapel at 8:00 p.m.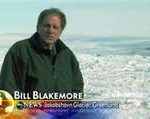 Four weeks before the nations meet in Copenhagen to try to avert global catastrophe, Mr. Blakemore will identify many often surprising psychological factors at play as people in all walks of life deal with the latest "hard news" on climate.
He'll explore new definitions of sanity that may pertain, and give examples displaying different "psychologies", as well as manmade global warming's place in the long history of narcissistic insults to humanity itself.
Two new time-line graphs of rapid and dangerous climate change will give fresh global context to the psychological challenges and experiences he has observed in the five years since he began focusing on global warming for ABC News.
Computer modelers trying to project the speed and severity of global warming's advance often say that "the biggest unknown" in their equations is not data about ice or atmosphere, carbon or clouds, but "what the humans will do." This talk probes that field and many states of mind already engaged.
Sponsored by the Wasch Center, Department of Psychology, and the Robert Schumann Lecture Series in the Environmental Studies Program.  Follow-up discussion on Wed., Nov. 4 at 4:15 p.m. in the Wasch Center.