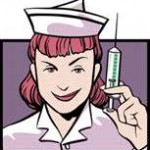 Information about the flu, flu vaccine, and notice of privacy practice can be found below by clicking on the appropriate link.  For faster service the day of the clinic, please print off and complete the Influenza Immunization Permission sheet and bring with you to the clinic.  Copies will also be available at the clinic site. Registration is not required. Please wear a short sleeve shirt for ease of access to your arm.
Date:         Sat., Oct. 17
Time:         10 a.m. – 1 p.m.
Location:  Usdan 108
Fee:           $37 (cash, check, or bill to student account)  
Click below for information about the flu clinic:  Flu Facts   Flu Vaccine Information   Influenza Immunization Permission (complete and bring to clinic)   VNA Privacy Disclosure Form
The Health Center is also offering the pneumonia vaccine to students who have asthma, diabetes, chronic illness and smokers per new Center for Disease Control (CDC) guidelines.  Please check out the link below if you are interested in more information about this vaccination.
www.wesleyan.edu/healthservices/ofnote/pneumonia.html
For more information, contact Joyce Walter, Health Center Director at x2656 or jwalter@wesleyan.edu