Campus life brings a sense of independence for most students.  This includes class schedules, social events, residential  life, student clubs and organizations, and jobs.  Amid these many changes, however, students sometimes forget about personal safety.  Campuses appear protected because students are surrounded by their peers and relatively insulated from the surrounding community.  It is extremely important, however, to remain aware of your surroundings.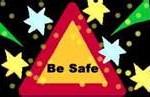 Campus safety is most successful when there is collaboration within the community among faculty, staff, administration, students, parents and community groups.  Knowledge about campus crime and safety empowers how you prevent or react to them.  In this ever changing and challenging world, it is important that we educate ourselves about safety on campus. 
The Office of Public Safety has been working with other departments to bring programs to the residence halls. There is a strong relationship with the Office of Residential Life.  In collaboration with WesWell , we have held Intoxication Panels to educate students about alcohol issues on campus.  We are currently working with the Deans' Office on some alternative programming (look for further information on our upcoming "3 on 3" basketball tournament).  Stop by our table any Tuesday evening at Usdan between 6 and 8 p.m. for updates on current issues on campus.  We are aiming to raise awareness about crime on campus by providing you with essential information about crime response and prevention.
Lt. Paul Verrillo, Wesleyan Public Safety