Dear Class of 2013,
Again, Welcome!  My name is Susan Kulesza (pronounced ku-less-a) and I'm the administrative assistant for your class dean, Dean Brown, and for Dean Garrett, who is the dean for the Class of 2011  You can find me in room 201, second floor of North College.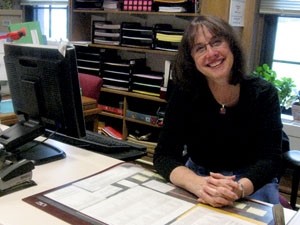 I have enjoyed working with Wesleyan students and staff since 2001 and look forward to meeting and assisting you during your time at Wes.  If you need to schedule an appointment with Dean Brown, please contact me at 860-685-2758 or send an email to skulesza@wesleyan.edu.  Don't forget to include your available dates and times so that I can find a time that is convenient for both of you.  I promise to get back to you quickly! 
If you are looking for a form, i.e. to transfer credit, change an advisor, apply for Education-in-the-Field or Independent Study credit, etc., please see me. I also assist in coordinating University prizes, so I may see you at the end of the school year too. If I don't have what you need, I can direct you to the appropriate website, department or person.
Hope we'll have a chance to meet soon – even if it's just to say, "Hi!"  Regards, Susan