A Resident Advisor (commonly shortened to "RA") is an integral member of the Residential Life staff.  RAs are trained student leaders charged with managing a residential community.   They live in their community and are expected to provide personal and social support for their residents.  RAs undergo intensive training to ensure that they can effectively address community issues, be a resource for their residents, and respond in crisis situations.  RAs rotate being "on duty" every night from 8 p.m. to 7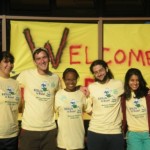 a.m. to provide assistance to students in their area, ensure policies are being observed, address maintenance issues, and perform lock-outs.  RAs plan several programs throughout the semester to help students get to know one another, learn more about the campus, or just explore a new idea.
You will meet your RA on Arrival Day.  Be sure to attend your floor meeting that night where you will receive much more information about Orientation, campus resources, and the ResLife staff.   Take time to get to know your RA and the other RAs in your building.  They all have been students for at least one year at Wesleyan and are on campus to help you!
Quiz:   What famous persons were RAs at NYU, U-VA, U-Pittsburgh, Wellesley, SUNY-Purchase, and U-MO?  Actor Jerry O'Connell, broadcaster Katie Couric, coach Mike Dikta, Sec. of State Hilary Rodham Clinton, actor Wesley Snipes, and musician Sheryl Crow, respectively.