Hi all!
Come support the men's and women's Wesleyan swim teams by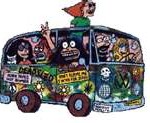 attending their meet this Friday night at Trinity College!!!!!!
A Fan Van will be departing from the front of Usdan at 5:00PM and taking students to Trinity (only 20 minutes away!), arriving just in time to see the beginning of the meet. 
The van will take students back to Wesleyan at 8:00 PM and drop them off at Usdan. 
Please participate in this UNIQUE opportunity and e-mail Grace Smith if you wish to reserve a spot on the bus!
Grace Smith '14, WSA Transportation Committee & WSA Freeman Athletic Advisory Committee, gmsmith@wesleyan.edu