Dear First-Year Students,
Navaratri is a great Wesleyan tradition you should know about….Also, Indian food by Haveli Restaurant will be sold before each of the performances, Fri-Sun.  So come and check it out!  (Also, for those of you who danced the South Indian dance in the Common Moment, you can take a free dance workshop on Saturday or attend the performance of South Indian dance by this incredible Chicago-based company on Sunday.)
Best, Pamela Tatge '84, Director, CFA
The Center for the Arts Presents the 33rd Annual
Navaratri Festival of India
 Free Ticket to One Navaratri Event for First-Year Students!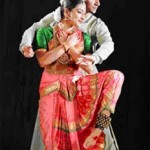 When: Wednesday, September 30—Sunday, October 4
What: Navaratri, one of India's major festival celebrations, is a time to see family and friends, enjoy music and dance, and seek blessings for new endeavors. Wesleyan's 33rd annual festival will again celebrate traditional music and dance while at the same time giving audiences a glimpse at the contemporary arts scene. Festival activities include performances by some of India's leading performing artists, a film screening, an Indian dance party, and an honoring of Navaratri's religious traditions at a culminating worship service. See below for a listing of events.
Admission: Free Ticket for First-Year Students! Various prices for others.
To redeem offer or get more information: Stop by the box office on the first floor of the Usdan Center, or call 860-685-3355 and identify yourself as a first-year student
Navaratri Performances
B. Balasubrahmaniyan: Vocal Music of South India
Thursday, October 1, 8pm, World Music Hall
Wesleyan's South Indian music faculty showcase their talents. Adjunct Instructor B. Balasubrahmaniyan, vocalist, will be joined by Artist in Residence David Nelson on mrdangam and guest artist K.V.S. Vinay, violin.
 
Alam Khan, Sarod and Samir Chatterjee, Tabla; North Indian Concert
Friday, October 2, 8pm, Crowell Concert Hall
Alam Khan, son of the late Swara Samrat Ali Akbar Khan, has been studying sarod since he was seven.  

Kadri Gopalnath: South Indian Music
Saturday, October 3, 8pm. Crowell Concert Hall
Saxophonist Kadri Gopalnath is one of the pioneers of Karnatak music on this instrument. His acclaim has continued to grow attracting, international attention for his performances in concert halls and jazz festivals worldwide.
Natya Dance Theatre
Sunday, October 4, 2pm, Crowell Concert Hall
Chicago-based Natya Dance Theatre (NDT) serves as an agent of cultural preservation, presentation and exchange. It was founded nearly 25 years ago as a school of classical Indian dance.